We are all working through difficult times and many businesses have had to adjust their way of thinking and operating. At Tropical Smoothie Cafe, we have adapted quickly in ways that might help you, your team or your entire company navigate this situation.
The Tropical Smoothie Cafe mission, simply put, is to Inspire Better. We believe our mission rings true for the impact we have on our franchisees, their cafe teams, our guests, and our corporate employees. We aim to Inspire Better in everything we do, every day, and we do so by living out our core values.
While cultural values are certainly not a new concept to any brand purpose, our values have evolved with the Tropical Smoothie Brand over time and truly speak to who we are today. We also believe the lessons learned from our core values have allowed us to thrive during a time of crisis – we have rebounded quickly despite the challenges by Putting People First, Investing in Innovation, Committing to the Cause, and Celebrating the Wins.
Putting People First is integral in any organization, but essential in the hospitality and foodservice industry. For Tropical Smoothie Cafe, we call this core value Relationships Rule. People are at the heart of our company. An organization that believes relationships are founded on trust and respect for the unique talents of our teams, franchisees, guests, and vendors alike will thrive. And we operate under the principle that relationships built on trust, respect and doing the right thing are the catalyst for having a meaningful impact on the lives of those around us.
As an example, we make sure that they're heard, we listen to what they need, and come together strategically as a franchisor to ensure we're able to support and execute that support in the best possible way. When our franchisees feel heard, and inspired, that translates into their cafes and inspires their guests to keep coming back. I believe that this franchisee-first and relationships rule mentality will continue to lead us in the post-pandemic world.
Investing in Innovation did not halt amidst the pandemic; instead, we embraced opportunities to launch new initiatives with intense speed and agility. This work is based on our core value to Think Bigger – Collaborating in the fearless, relentless, and passionate pursuit of better allows us to overcome the status quo and achieve great things together. During the pandemic, our franchise community has rallied around the new normal and we now have system-wide participation in recently-launched delivery order modes such as third-party delivery, curbside pickup, and white label delivery.
Arguably most important during a time of crisis is to respond to adversity by Committing to the Cause, aligning with the Tropical Smoothie Cafe core value to be All In. Our franchise community has fully committed with relentless effort to accomplishing our mission to Inspire Better. We know doing so gives us an unrivaled edge and fuels our passion for winning; in this case, despite all odds. Through a pandemic, our franchisees have run shifts themselves, redefined our labor model, utilized local marketing tactics to reach guests, participated in new delivery models, and executed discounting and traffic-drafting marketing strategies that are generally foreign to our brand. These actions show our franchise community's All In spirit, grit, determination, and commitment to Inspiring Better and supporting the communities we serve.
And through it all, organizations should recognize accomplishments by Celebrating the Wins. For us, this is our core value of High Five. We believe inspiring better deserves enthusiastic celebration. We support, push and cheer each other on because we know we are better together. It's imperative that organizations persist through change and continue to acknowledge and celebrate individual and collective wins, success and achievements – big and small – and the result will be employees who take pride in exceeding expectations. During the pandemic, in cafes across the country, the Tropical Smoothie Cafe family is working tirelessly to support our local communities, which are currently facing unprecedented hardship. The safety of our communities is dependent upon the selfless, hard work of our local healthcare workers and first responders and our franchisees have stepped up to help them in any way they can. During our "#InThisTogether" smoothie giveaway campaign, our franchise community delivered more than 200,000 smoothies to show our gratitude and bring a smile to their face – one sip at a time. Simply put, we believe we have to give back to get through.
We are grateful that Tropical Smoothie Cafe has been successful because of our bold actions of our past but will continue to be successful because of who we are at our core today and our ability to adapt during a crisis.
We want to be an escape for our guests in this hectic world we live, while also offering an incredible business model for our franchise partners that ultimately drives their success. It's an exciting time to be a fast-casual concept within this segment, and our passion for Putting People First, Investing in Innovation, Committing to the Cause, and Celebrating the Wins as we live our core values to Inspire Better has created an incredible opportunity for us to be an approachable, healthier option for many.
About the Author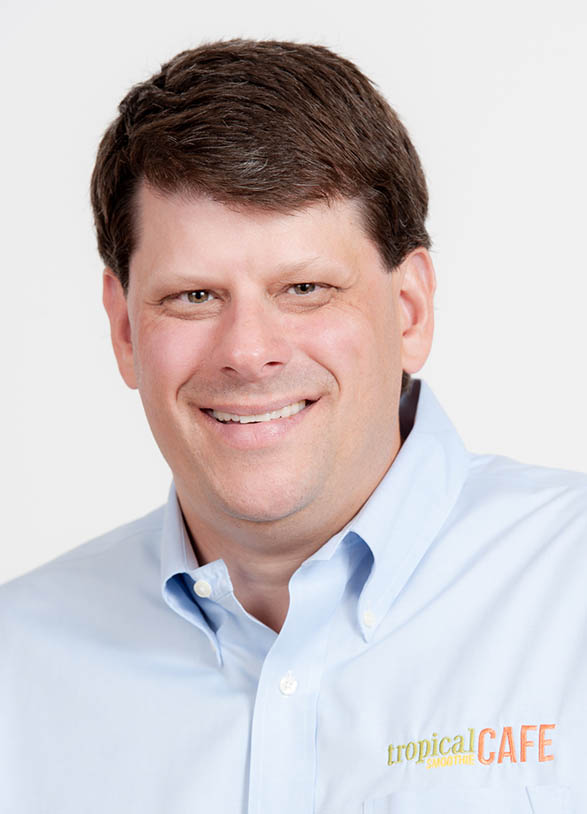 Charles Watson is a dedicated franchise professional focused on the leadership and growth of exceptional franchise systems. Watson contributed to the success of the popular smoothie brand, Tropical Smoothie Cafe, for more than ten years acting as the Vice President of Franchise Development, Chief Development Officer and most recently as Chief Executive Officer. As a result of his development and executive leadership work, the brand is expected to have 1,500 by 2023. Prior to his tenure at Tropical Smoothie Cafe, Watson led strategic sales teams, e-commerce, corporate franchise sales systems and corporate strategy for InterContinental Hotels Group as manager of Global Sales and then as Vice President of Corporate Strategy for Wyndham Hotels & Resorts.
Charles Watson
@TSmoothieCafe | LinkedIn | Website