In a society thrown off its axis, company messages of safety, support and 'how we've adapted' have been a positive, timely response.
In the months to come, though, most of us are depending on an economic recovery to help restore our businesses.
And the recovery, in turn, will depend on us.
Companies will need to build demand, buyer confidence, and a flow of dollars. In a shifting competitive landscape, the advantage will likely go to businesses with an evolved message, and authentic communications that genuinely connect with today's humans.
With the help of skilled writers and strategists, some firms had already moved in that direction before this big mess. But many more have not, and those older-school website and marketing approaches may now be a liability, sounding more insensitive and self-serving than ever to today's ears.
So … how do we make the shift?
In principle, it's pretty simple. Yesterday, it was mostly about the seller. Tomorrow, it will be mostly about the buyer.
In an era of heightened sensitivity and vulnerability, 'putting customers first' will become more than just a slogan.
The core issue is not new.
A company website, for example, is initiated by, informed by, and approved by company insiders who quite naturally have the perspective and sensibilities of sellers. From that view, it's about their company, their services, and their processes.
But if I'm their website visitor, I'm coming at things from a whole different angle. I have an issue that I'm trying to resolve, within my own home or workplace universe of considerations, influences, aspirations and fears. I'm looking for a smart solution for me that won't cause me other headaches.
So I land on a website that starts out with 'what our company is committed to' and how 'our people make the difference.' That's so far from where I'm at, it's an immediate disconnect. I lurch for the Back button.
But hope is not lost.
The next website I visit clearly understands what I'm committed to. They know what I'm trying to achieve, and why, as well as the obstacles in my way.
They explain the kinds of solutions that would overcome those obstacles. They help me avoid any related problems I might be worried about. And they offer objective tips that make my task easier. With all that good info, they have my attention.
So when they make a pitch for their product, they don't need to convince me, because I'm already sold. Why? Because this company gets me, and that shines above all the common, superficial boasts that are easily repelled by today's buyers' armor. Smart sellers make a case, not just a claim.
Let's dig a little deeper.
Of course, companies still need to describe their offerings on their Services web page; tell the story of the fine people I'll be working with on their About page; and highlight previous work on their Portfolio or Case Study page.
But perhaps even those need to be approached through the eyes of prospects. For example, what the company sells, and what the customer ultimately gets, are often more different than you'd think.
When talking About their business, a firm's '12 years of experience' isn't as important to me as what they've learned from all that experience, about my issues, frustrations, and aspirations.
As far as Case Studies, I'm more interested in smart insights that could apply to me than all the detailed particulars.
Don't different buyers have different needs?
Sure, but a smartly organized website will offer appropriate sections and unique messaging for each persona that the company has dug deeper to understand. And for each, the focus should be on helping, not just selling.
With a nod to Donald Miller and his StoryBrand approach, buyers don't need us to be the hero. They need a guide who will help them become the hero.
Put another way, if we can position our offerings as their own means to their own ends, well, we're exactly where we want to be. To do that, let's start with where the reader is at, then plant some seeds to bring them, step by step, to the conclusion that our approach makes perfect sense for them.
Turn their screen into a mirror.
The first thing they see, at the top of our web Home page, will determine whether they read any further. If our prospective buyer sees themselves reflected in our empathetic, on-target headline, guess what, we've got a fish on the hook.
On the other hand, if the emphasis is on 'what we think of our company,' then that opportunity is missed. And the visitor has already moved on to see what else is out there.
Every business will have to find its own way, seeking opportunity and targeting messages in a fresh round of marketplace musical chairs. Nobody likes change, but y'know what?
Buyers are now in control.
And they'll gravitate to sellers who put them front and center, with smart options for their specific needs. That's bad news for firms who (yawn) 'pride themselves on their dedication to excellence.'
About the Author
Tom Tortorici is a writer and designer who loves squeezing out creative solutions for strategic challenges. He's also the founder of the agency Market Media.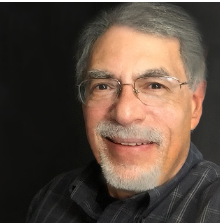 Tom's studies in communication theory, visual perception and classical rhetoric have helped him spot all the ways marketers miss their mark. His 'Optimized for Humans' classes and conference talks cover messaging that makes a genuine connection, as well as design approaches for today's short-attention-span readers.
Along the way, Tom has run a printing press, hand-coded websites, and built a fascinating collection of media, communication and computing artifacts. As a volunteer, he writes about tech history for the Computer Museum of America.
Don't be shy – connect with Tom at https://www.linkedin.com/in/tomtortorici